Ian Morgan-Williams is an award-winning, highly experienced composer and the most eclectic of musicians, who has recently returned home to Wales to dedicate more time to composing.
"Ian's musical world is informed by decades of working with professional musicians and community and youth arts organisations, as well as by his upbringing in north Wales."
Ian's studies with Anthony Gilbert and Martin Butler saw his music focus on what he refers to as three compositional preoccupations – the illusion of synchronicity (pre-digital Belisha beacons), non-octave repeating pitch systems (odd scales) and the naturally sprung rhythms of folk music (visually complex notation). The latter is the especial link between Ian's music and his surroundings, and with his Celtic heritage.
Having composed the score for Clwyd Youth Theatre's adaptation of Hard Times when he was seventeen, Ian has sustained his fondness for working with community and youth Arts organizations. He is as adept making music for a primary school ensemble as he is working with professionals, and equally happy in both environments.
Ian's music will always dance or sing, and usually both.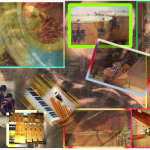 Ian maintains his long-held belief that no genre or style should be off the table when saying yes to composing work…

Ian has decades-worth of arrangements in his store cupboard for just about any imaginable ensemble…
TEACHING & EDUCATION PROJECTS
Ian specialises in online teaching and offering guidance with preparation for Higher Education Music applications, auditions and interviews…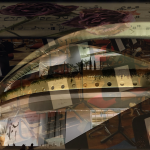 Ian has many years' experience conducting youth and amateur ensembles. He would be happy to consider occasional conducting roles…
"My inspirations come from the landscape of Wales, from the sights and sounds around me, from the books I read, the pictures I see, the flowers and foods I smell, from conversations with friends, and from the imprecise trickery of a part-remembered history."
Under Ian's direction, young musicians produce extraordinary results. The music he writes, and the music he programmes, always aims high. The level of challenge raises confidence and ability, and everything is put together with meticulous organisation and clarity (not to mention pots-loads of expression and consistently good humour!).
Ian showed tremendous skill and creativity in quickly composing melodies to the lyrics supplied by the children. He was able to produce such an interesting range of styles and to enthuse the students with quirky, age-appropriate PowerPoint presentations using Teams. We also collaborated on an exemplar ballad and I felt my words were in very safe hands as together we adjusted syllable counts and rhythms to find the best fit for music and text. Ian had a clear understanding of learning objectives, individual needs and of how to make sessions fun. We're due to work together again very soon; and you don't do that unless you have the utmost respect for and confidence in your fellow professional.
Fripperies and Frazzles is an amazing, virtuosic and poetic composition – a work that manages to captivate with its musicality. I have had the honour and pleasure of having premiered it and I hope and wish to be able to interpret it on many occasions.
Ian's Biscuit, Bread and Cakes…
Ian's other passion is baking. Read Ian's Biscuit, Bread & Cake log for regular updates and occasional recipes.